Purity, 2016
Digital c-type, frame and pearls, 117 x 96 cm, Edition of 6
Purity, 2016
Digital c-type, frame and pearls, 117 x 96 cm, Edition of 6
Ball and Chain, 2016
Digital c-type print, frame and pearls, 124 x 99.5 cm, Edition of 6
Ball and Chain, 2016
Digital c-type print, frame and pearls, 124 x 99.5 cm, Edition of 6
Puppet, 2016
Digital c-type print, frame and pearls, 92 x 78 cm, Edition of 6
Puppet, 2016
Digital c-type print, frame and pearls, 92 x 78 cm, Edition of 6
Chained, 2016
Digital c-type, frame and pearls, 132.5 x 104 cm, Edition of 6
Chained, 2016
Digital c-type, frame and pearls, 132.5 x 104 cm, Edition of 6
Isabella Study 01 (Women with Necklace) 2014.
Edition of 12, Digital C-Type Print, 51 x 45 cm, courtesy Sarah Myerscough Gallery
Speaking at a Machine, 2013.
Digital C-Type, 90.5 x 80 cm, Edition of 12
Hero, 2018
at Manchester Art Gallery, October 2018 - February 2019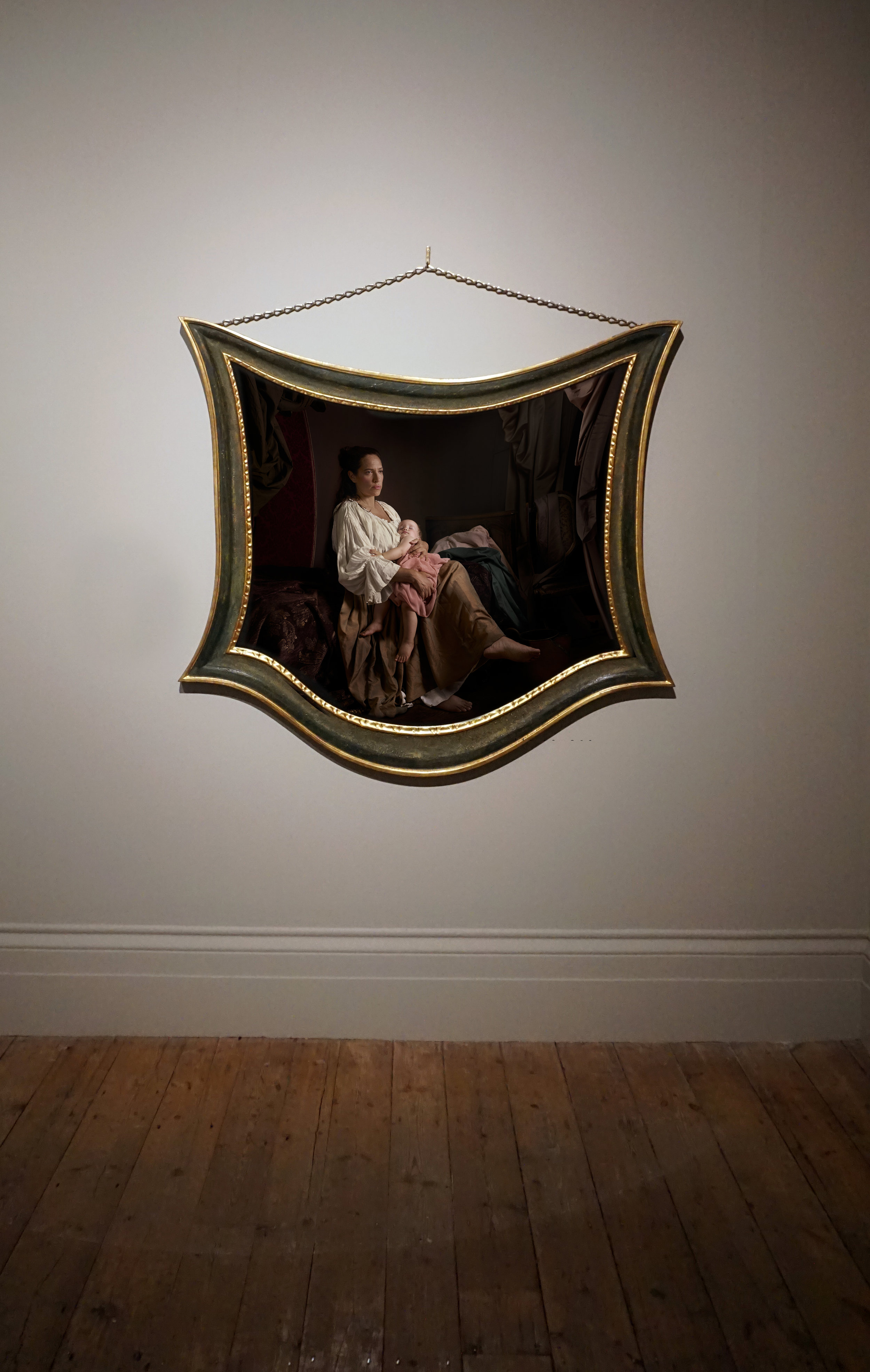 Mother and Child, 2018
At Manchester Art Gallery, October 2018 - February 2019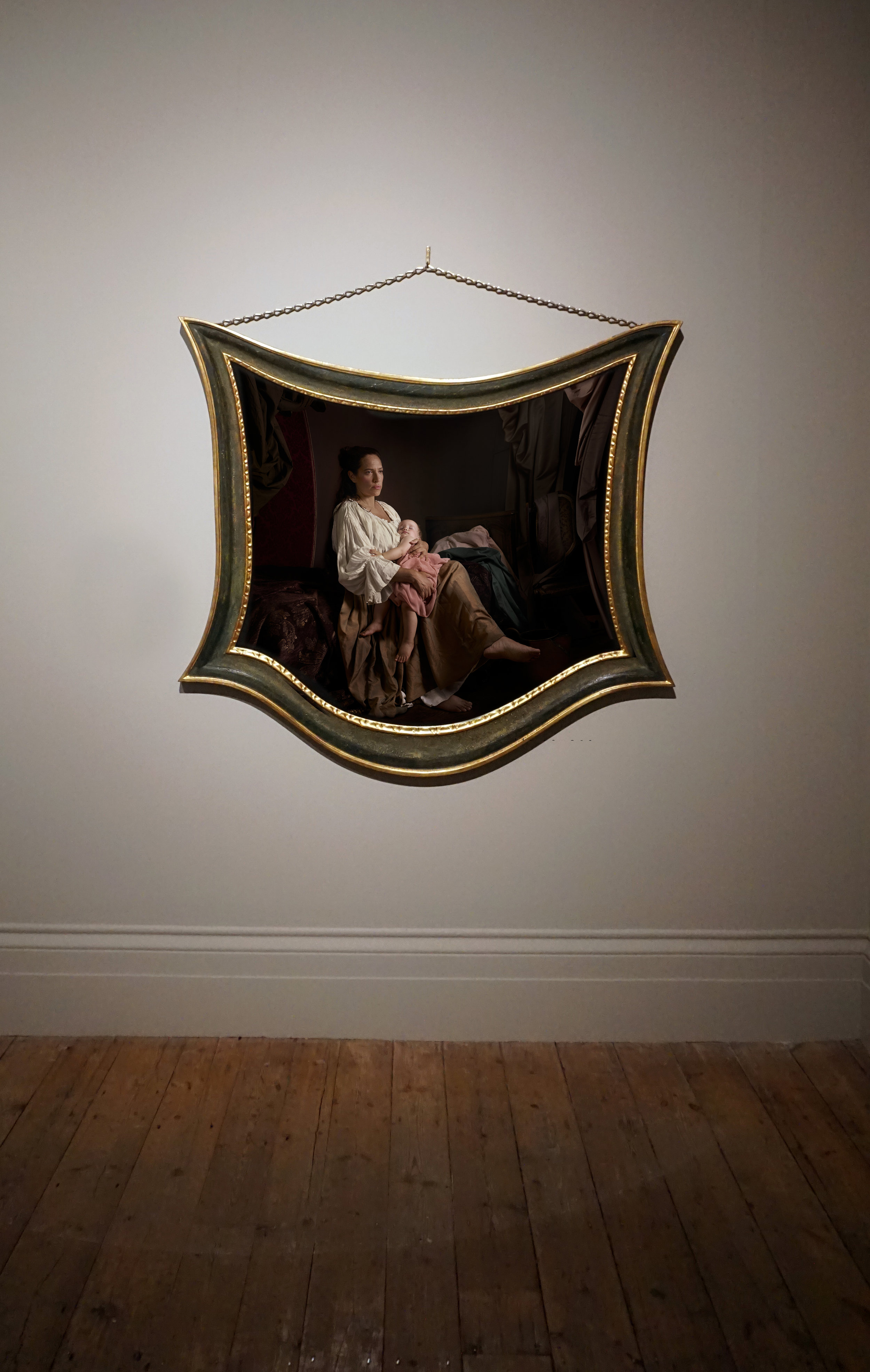 The connection with art history enriches photography's vocabulary, and it is a productive kind of retrospection for a practitioner like Maisie Broadhead, who borrows freely from past art … [Broadhead's] photographic illusion is rich; each figure, each tint is sympathetically reimagined – Hope Kingsley, Seduced by Art: Photography Past and Present (London: National Gallery, 2012)
Maisie Broadhead re-interprets art historical images, and is concerned with the exploration of illusion and the idea of 'value.' Broadhead's exceptional eye for detail, quality and composition is conveyed through the making of complex set design, lavish costume, and theatrical direction to arrive at a final image. The viewer's eye indulges in Broadhead's re-presentation of rich, sumptuous fabrics, often with humorous contemporary embellishment. By using contemporary and historical elements, the images link the past and present by identifying enduring social and aesthetic narratives.
Since graduating from her Masters in Jewellery at the Royal College of Art in 2009, Maisie Broadhead's work has been critically noted by the British Press and has been exhibited in major museum shows such as Unexpected Pleasures: The Art and Design of Contemporary Jewellery, which was held at the National Gallery of Victoria, Australia in 2012 and which toured to the Design Museum, London (5 December 2012 – 3 March 2013), and the National Gallery's first major photography exhibition, Seduced by Art: Photography Past and Present which explored early photography from the mid-19th century and exciting contemporary photographs, alongside historical painting (October 2012 – January 2013, at CaixaForum Barcelona, February 2013 – May 2013, and CaixaForum Madrid, June 2013 – September 2013). The artist's critical success continued into summer 2013, winning an award at the Jerwood Makers Open, which recognizes rising stars in the applied arts. Most recently, Maisie Broadhead received a £20,000 grant from the Arts Council England for a public commission at the Brighton Pavilion (November 2014 – March 2015).
News
Exhibitions / Fairs Calendar