David Gates & Helen Carnac
GYC#2, 2018
Elm, Ash, Quilted Maple, Cedar of Lebanon, Vitreous Enamel on mild Steel, 135 H x 58.5 W x 42 D cm. Photo credit: David Gates
Anon(.)pt7, 2019
Oak, steel, textile thread, 140 H x 50 W x 35 D cm. Photo credit: David Gates
Dungeness//Purton 4, 2019
Steel, vitreous enamel, oak. 16 H x 40 W x 16 D cm
Dungeness//Purton 3, 2019
Steel, vitreous enamel, oak. 24 H x 52 W x 11 D cm
Dungeness//Purton 6, 2019
Steel, vitreous enamel, oak. 21 H x 32 W x 14 D cm
Littoral Chances 1 & 2, 2017
Quarter sawn european oak, vitreous enamel on steel, bog oak, ripple sycamore, birds-eye maple, cedar and steel
110 x 74 x 34 cm
43 1/4 x 29 1/8 x 13 3/8 in
Quarter sawn european oak, vitreous enamel on Steel, bog oak, ripple sycamore, birds-eye maple, cedar and steel
110 x 74 x 37 cm
43 1/4 x 29 1/8 x 14 5/8 in
Perpetually Ajar, 2015.
Quarter sawn European Oak, Maple, Bog Oak, Cedar of Lebanon, and Douglas Fir, 117 x 66 x 32 cm with Helen Carnac, Vitreous enamel vessels with sgraffito drawing, 2015. Mild steel and vitreous enamel, 17cm dia.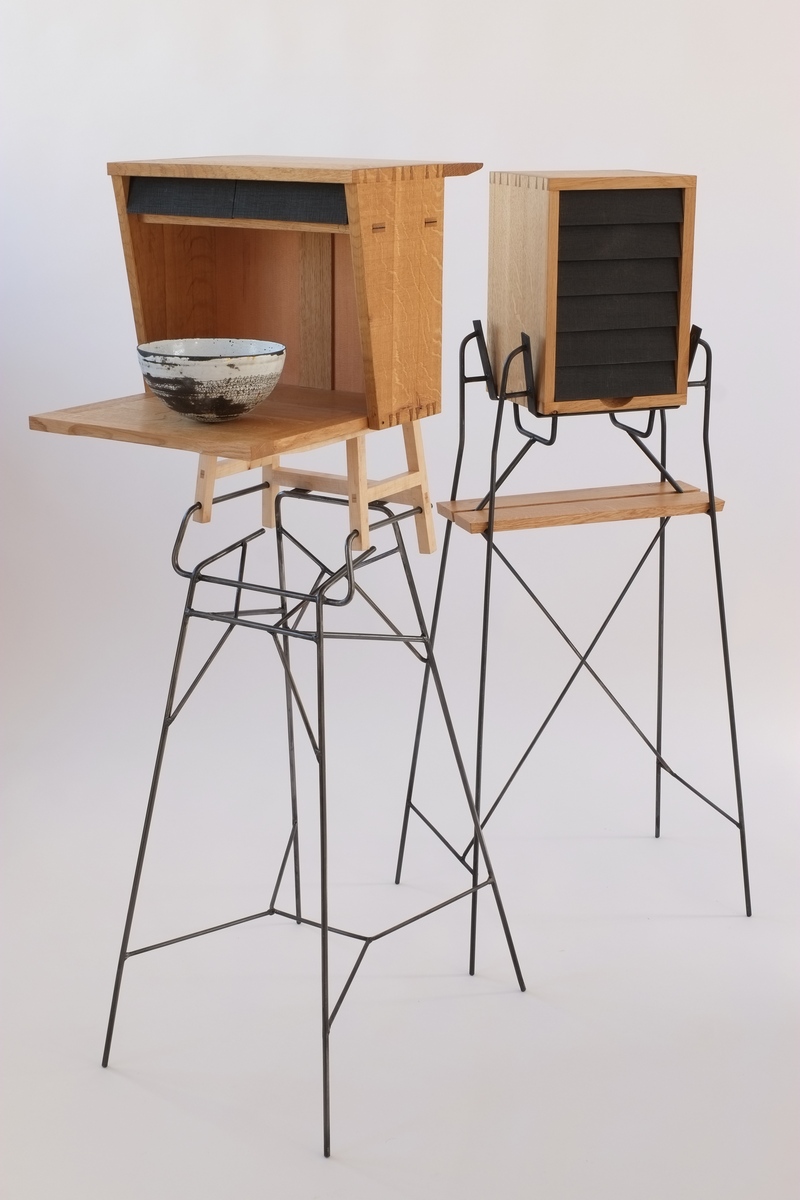 At Cliffe I & II, 2018
At Cliffe I, 2018
Floor standing cabinet in oak, bog oak, maple, and steel
115 x 49 x 31 cm
At Cliffe II, 2018
Steel, Quarter Sawn European Oak, Bog oak, Maple, Cedar of Lebanon
Littoral Chances II, 2017
Quarter sawn european oak, vitreous enamel on Steel, bog oak, ripple sycamore, birds-eye maple, cedar and steel
110 x 74 x 37 cm
43 1/4 x 29 1/8 x 14 5/8 in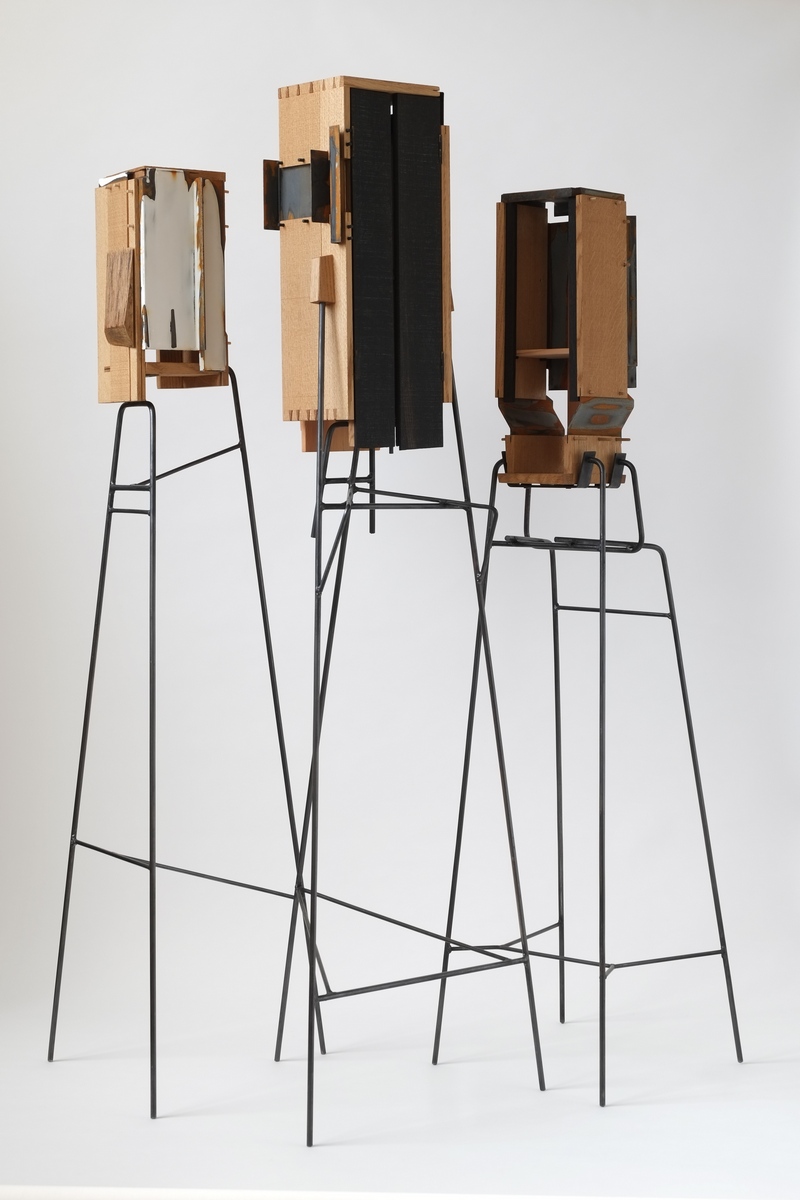 In a Landscape II, 2017
Vitreous enamel on mild steel, mild steel, European oak, bog oak.
Three parts: 125 x 34 x 35cm; 127 x 37 x 33cm; 142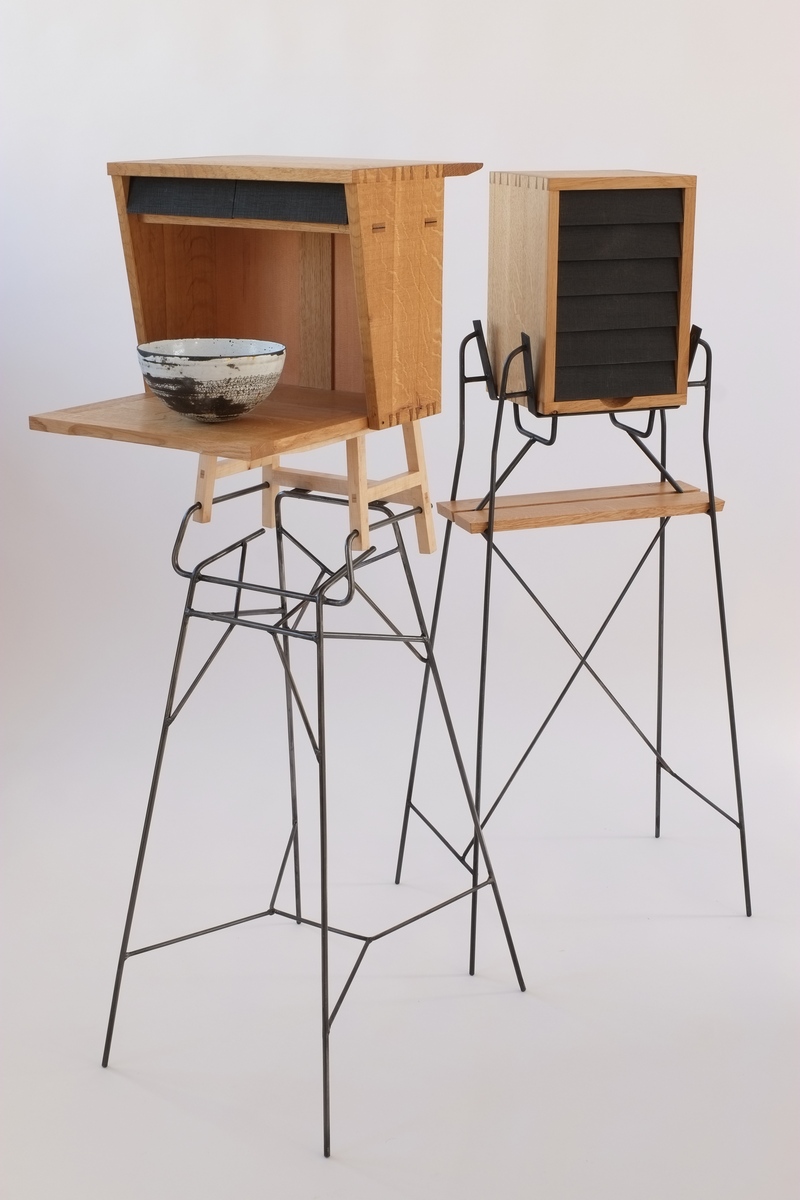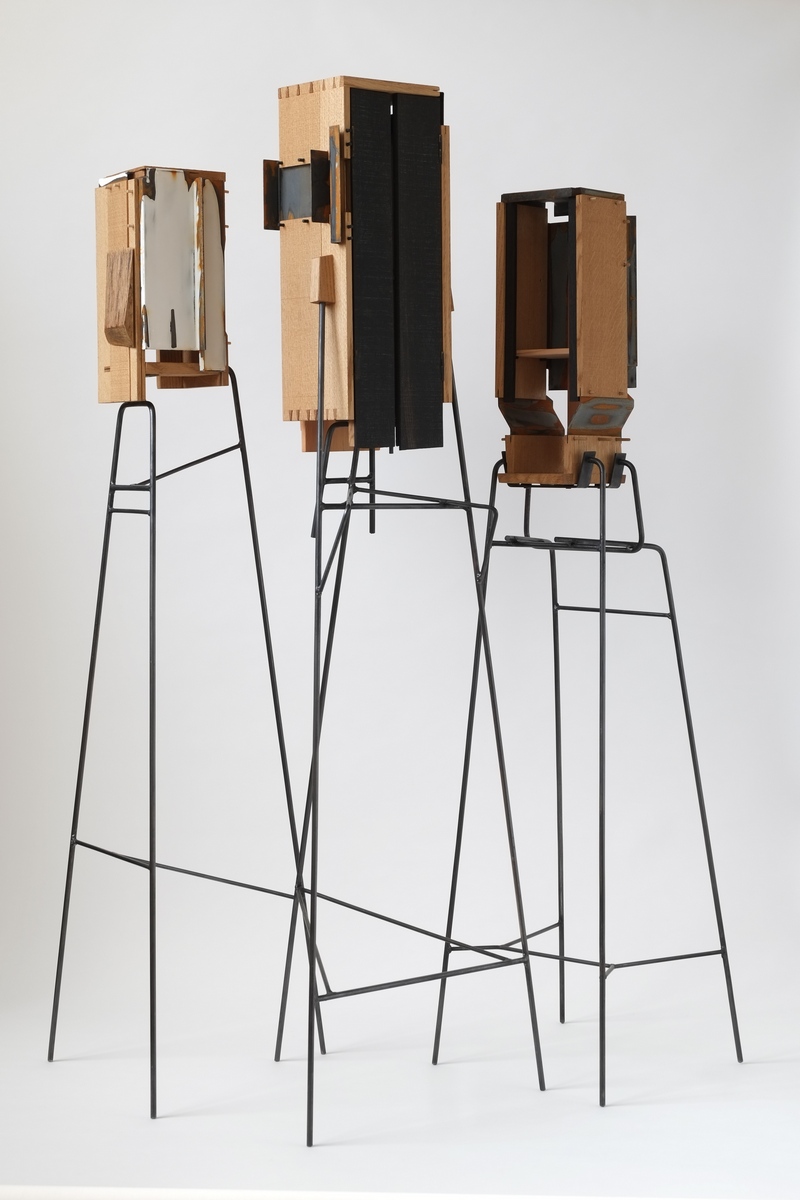 David Gates and Helen Carnac are both drawn to industrial architecture and agricultural infrastructure. Their riverside studio is close to the remaining Thames-side industries, including storage depots, jetties and wharves, grain silos, coastal defences, radio towers, pylons, and conveyors of the Tate; Lyle factory, The artists find a peculiar rightness to many of these structures related to their expediency, function, and immediacy. The buildings' rationality and utility generate a sculptural and aesthetic integrity. None of Gates and Carnac's cabinets are 'of' a particular structure or building although some are more strongly related to particular sites. However, they all embrace an overall aesthetic and approach that emerges from observation, photography, and drawing.
David Gates designs and makes 'striking pieces of three-dimensional art, inspired by, but not delimited by the idea of cabinet furniture.' (Emma Crichton Miller, Crafts, Sep/Oct 2017). London-based David combines studio furniture-making with formal research. His work is exhibited and collected internationally. Public collections include the Nasjonalmuseet for Kunst Arkitekturog Design, Oslo and the Crafts Council in the UK. He received the Gold Award at the Cheongju biennale, South Korea in 2015 and was a winner of the Jerwood Contemporary Makers 2010. David holds a PhD by thesis from Kings College London having researched the use of talk as an aspect of practice amongst professional craftspeople. His first degree is in Furniture and Product Design (Ravensbourne College of Art 1988) and he established his studio in 1992.
Helen Carnac is a maker, curator and academic who lives and works in London. Drawing, mark-making, the explicit connections between material, process and maker and an emphasis on deliberation and reflection are all central to her practice as a maker and thinker. Carnac was awarded a Cultural leadership fellowship in the Crafts in 2009 in order to develop ideas about how the Crafts are communicated. She has curated the National touring exhibition 'Taking Time: Craft and the Slow Revolution' in 2009, which also travelled to Birmingham Museum and Art Gallery. In 2006 she was co-chair for the Association for Contemporary Jewellery's conference Carry the Can® and she is actively involved in developing dialogue within the Crafts having developed numerous talks and events for makers over the past five years. Her work is held in both National and International collections, including Racine Art Museum. She has taught extensively in the UK and USA including Virginia Commonwealth University and Penland Mountain School, North Carolina.
news
Exhibitions / Fairs Calendar