David Gates & Helen Carnac
GYC#2, 2018
Elm, Ash, Quilted Maple, Cedar of Lebanon, Vitreous Enamel on mild Steel
135 H x 58.5 W x 42 D cm
Photo credit: David Gates
Anon(.)pt7, 2019
Oak, steel, textile thread
140 H x 50 W x 35 D cm
Photo credit: David Gates
Dungeness//Purton 4, 2019
Steel, vitreous enamel, oak. 16 H x 40 W x 16 D cm
Dungeness//Purton 3, 2019
Steel, vitreous enamel, oak. 24 H x 52 W x 11 D cm
Dungeness//Purton 6, 2019
Steel, vitreous enamel, oak. 21 H x 32 W x 14 D cm
Littoral Chances 1 & 2, 2017
Quarter sawn european oak, vitreous enamel on steel, bog oak, ripple sycamore, birds-eye maple, cedar and steel
110 x 74 x 34 cm
43 1/4 x 29 1/8 x 13 3/8 in
Quarter sawn european oak, vitreous enamel on Steel, bog oak, ripple sycamore, birds-eye maple, cedar and steel
110 x 74 x 37 cm
43 1/4 x 29 1/8 x 14 5/8 in
Perpetually Ajar, 2015.
Quarter sawn European Oak, Maple, Bog Oak, Cedar of Lebanon, and Douglas Fir, 117 x 66 x 32 cm with Helen Carnac, Vitreous enamel vessels with sgraffito drawing, 2015. Mild steel and vitreous enamel, 17cm dia.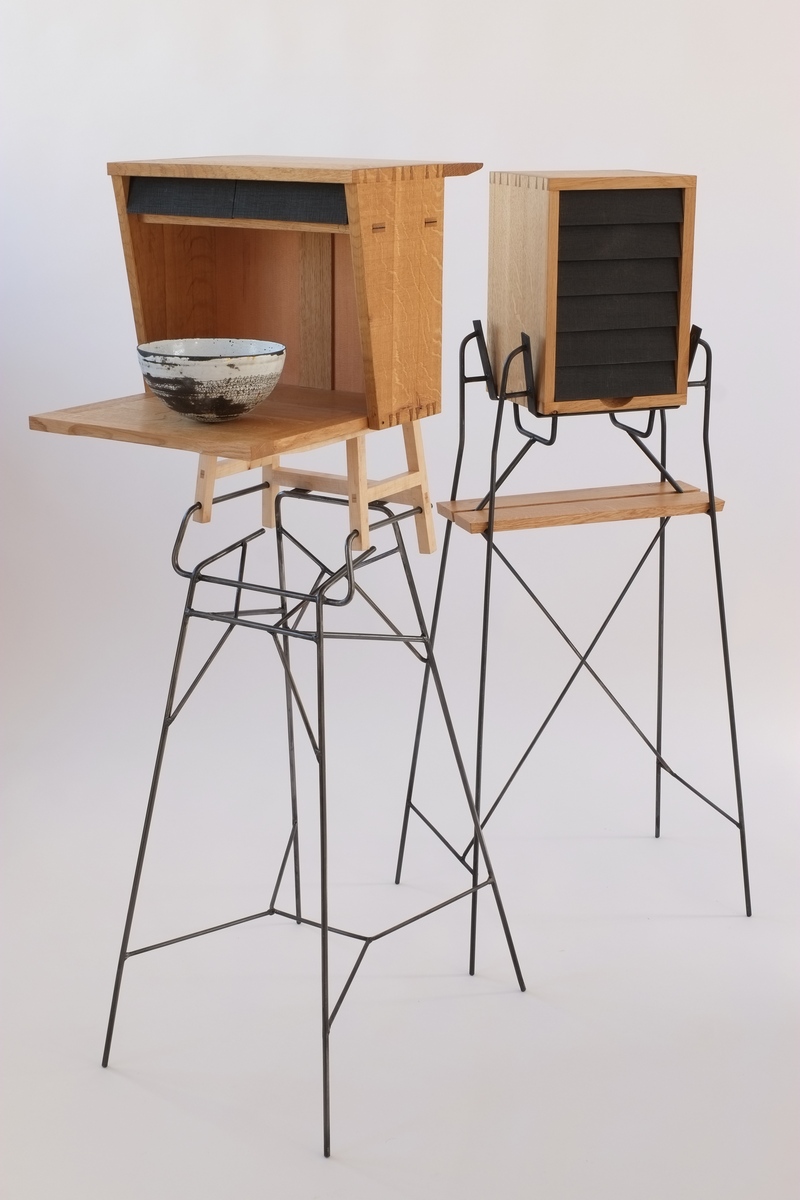 At Cliffe I & II, 2018
At Cliffe I, 2018
Floor standing cabinet in oak, bog oak, maple, and steel
115 x 49 x 31 cm
At Cliffe II, 2018
Steel, Quarter Sawn European Oak, Bog oak, Maple, Cedar of Lebanon
Littoral Chances II, 2017
Quarter sawn european oak, vitreous enamel on Steel, bog oak, ripple sycamore, birds-eye maple, cedar and steel
110 x 74 x 37 cm
43 1/4 x 29 1/8 x 14 5/8 in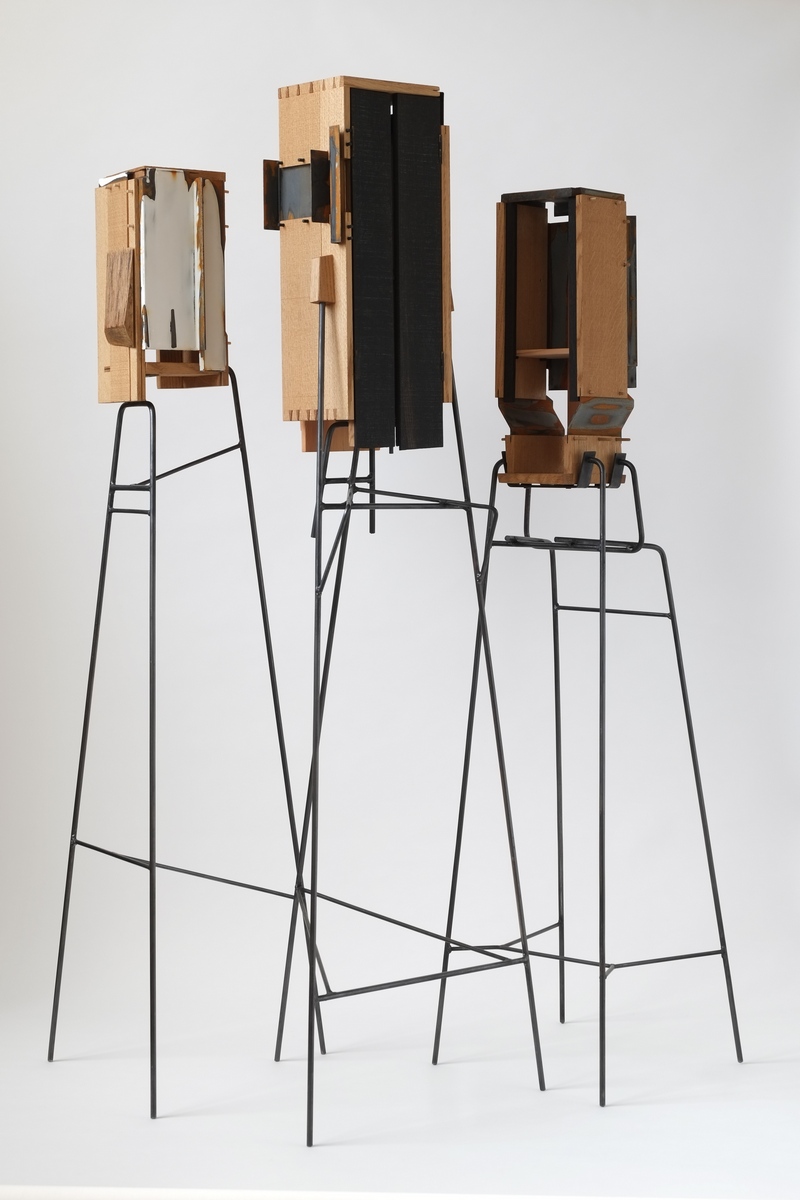 In a Landscape II, 2017
Vitreous enamel on mild steel, mild steel, European oak, bog oak.
Three parts: 125 x 34 x 35cm; 127 x 37 x 33cm; 142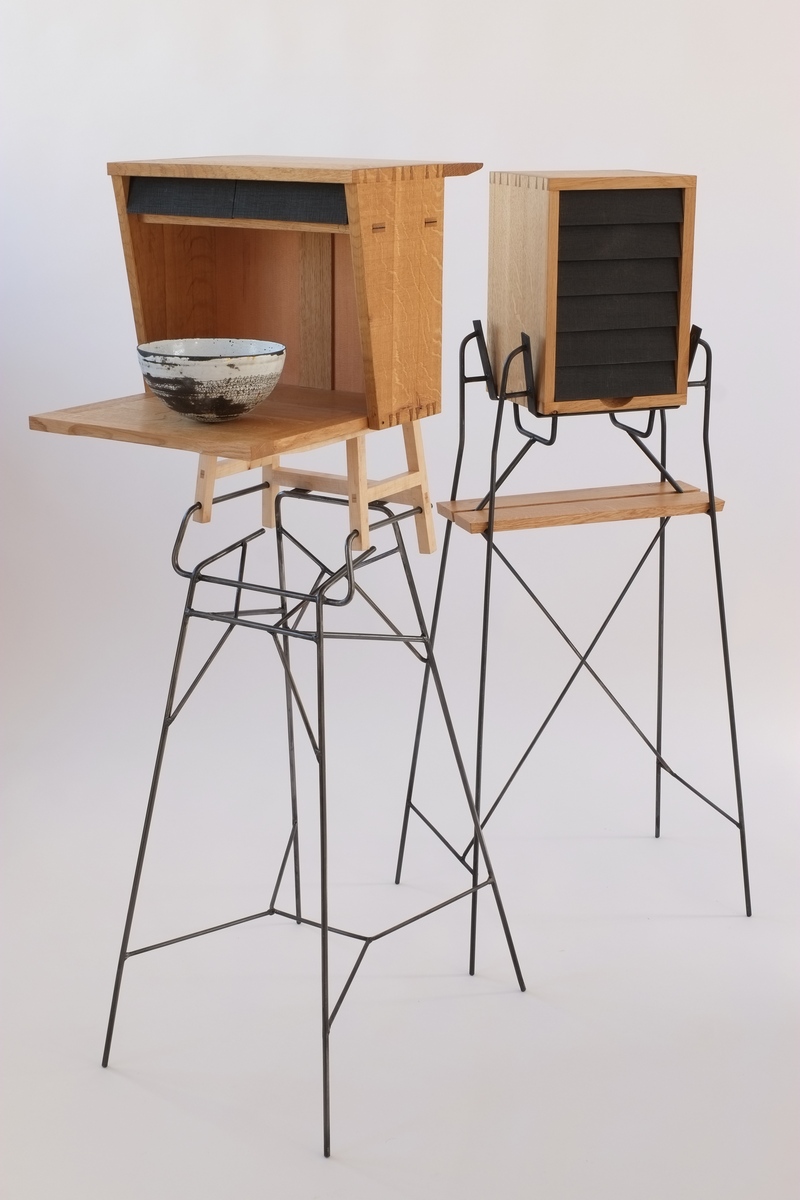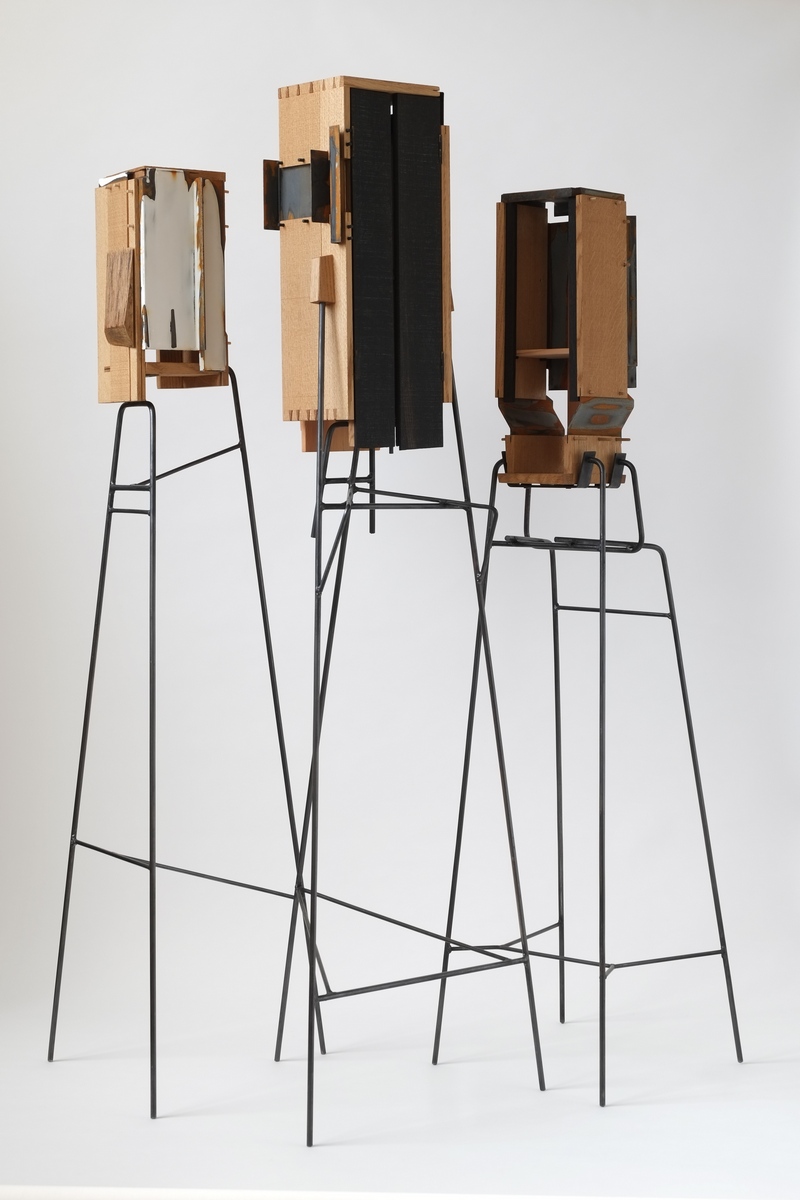 David is drawn to industrial and agricultural architecture and infrastructure. This includes storage depots, jetties and wharves, grain silos, coastal defences, radio towers and pylons. Looking across to the cranes, buildings, and conveyors of the Tate; Lyle factory, his riverside studio is close to the remaining Thames-side wharves and jetties and on the way to the flat landscape of the estuary. There is a peculiar rightness to many of these structures related to their expediency, function, and immediacy. Their rationality and utility generate a sculptural and aesthetic integrity. None of the cabinets are 'of' a particular structure or building although some are more strongly related to particular sites. However, they all embrace an overall aesthetic and approach that emerges from observation, photography, and drawing.
All of the cabinets are explicitly three-dimensional. Unlike much cabinet furniture, which has a definite front, these pieces have multiple elevations of interest. This is part of a strategy of slowing down, of taking time to engage with a piece and explore the openings, niches, and drawers and the part they take in the overall form. Additionally, the architecture they are drawn from, as a contemporary vernacular, rarely present themselves with a grand front elevation. The furniture shares this quality of being structures in the round whose forms and points of interest shift and change as ones viewpoint moves – there is an element of chance in how they are encountered and assessed. Function is deliberately vague, no precise use is prescribed as each piece is designed and made. All the cabinets are functional but this emerges through use, each becomes particular to a specific context: their vagueness lends them to the particular.
David Gates designs and makes "striking pieces of three-dimensional art, inspired by, but not delimited by the idea of cabinet furniture." (Emma Crichton Miller, Crafts Sep/Oct 2017). London-born London-based David combines studio furniture-making with formal research. His work is exhibited and collected internationally. Public collections include the Nasjonalmuseet for Kunst Arkitekturog Design, Oslo and the Crafts Council in the UK. He received the Gold Award at the Cheongju biennale, South Korea in 2015 and was a winner of the Jerwood Contemporary Makers 2010. David holds a PhD by thesis from Kings College London having researched the use of talk as an aspect of practice amongst professional craftspeople. His first degree is in Furniture and Product Design (Ravensbourne College of Art 1988) and he established his studio in 1992.
news
Exhibitions / Fairs Calendar