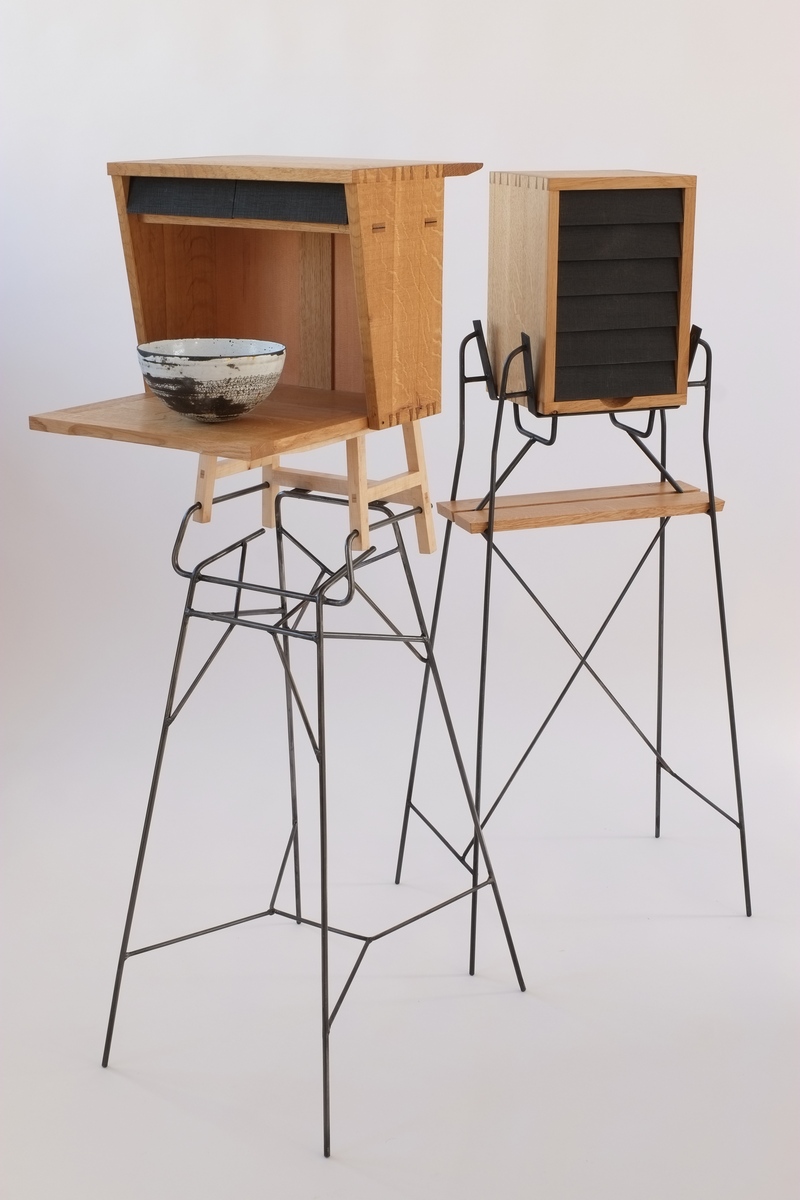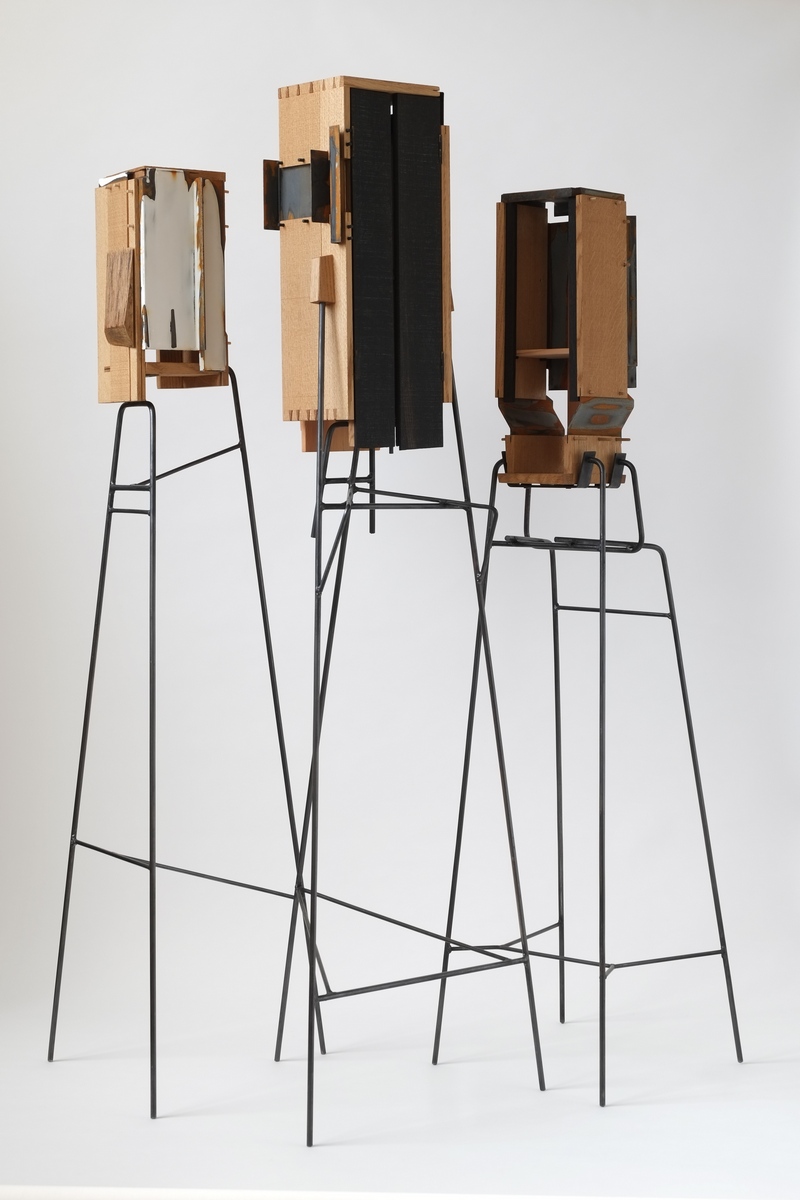 GYC#2, 2018
Elm, Ash, Quilted Maple, Cedar of Lebanon, Vitreous Enamel on mild Steel, 135 H x 58.5 W x 42 D cm. Photo credit: David Gates
Anon(.)pt7, 2019
Oak, steel, textile thread, 140 H x 50 W x 35 D cm. Photo credit: David Gates
Dungeness//Purton 4, 2019
Steel, vitreous enamel, oak. 16 H x 40 W x 16 D cm
Dungeness//Purton 3, 2019
Steel, vitreous enamel, oak. 24 H x 52 W x 11 D cm
Dungeness//Purton 6, 2019
Steel, vitreous enamel, oak. 21 H x 32 W x 14 D cm
Littoral Chances 1 & 2, 2017
Quarter sawn european oak, vitreous enamel on steel, bog oak, ripple sycamore, birds-eye maple, cedar and steel
110 x 74 x 34 cm
43 1/4 x 29 1/8 x 13 3/8 in
Quarter sawn european oak, vitreous enamel on Steel, bog oak, ripple sycamore, birds-eye maple, cedar and steel
110 x 74 x 37 cm
43 1/4 x 29 1/8 x 14 5/8 in
Perpetually Ajar, 2015.
Quarter sawn European Oak, Maple, Bog Oak, Cedar of Lebanon, and Douglas Fir, 117 x 66 x 32 cm with Helen Carnac, Vitreous enamel vessels with sgraffito drawing, 2015. Mild steel and vitreous enamel, 17cm dia.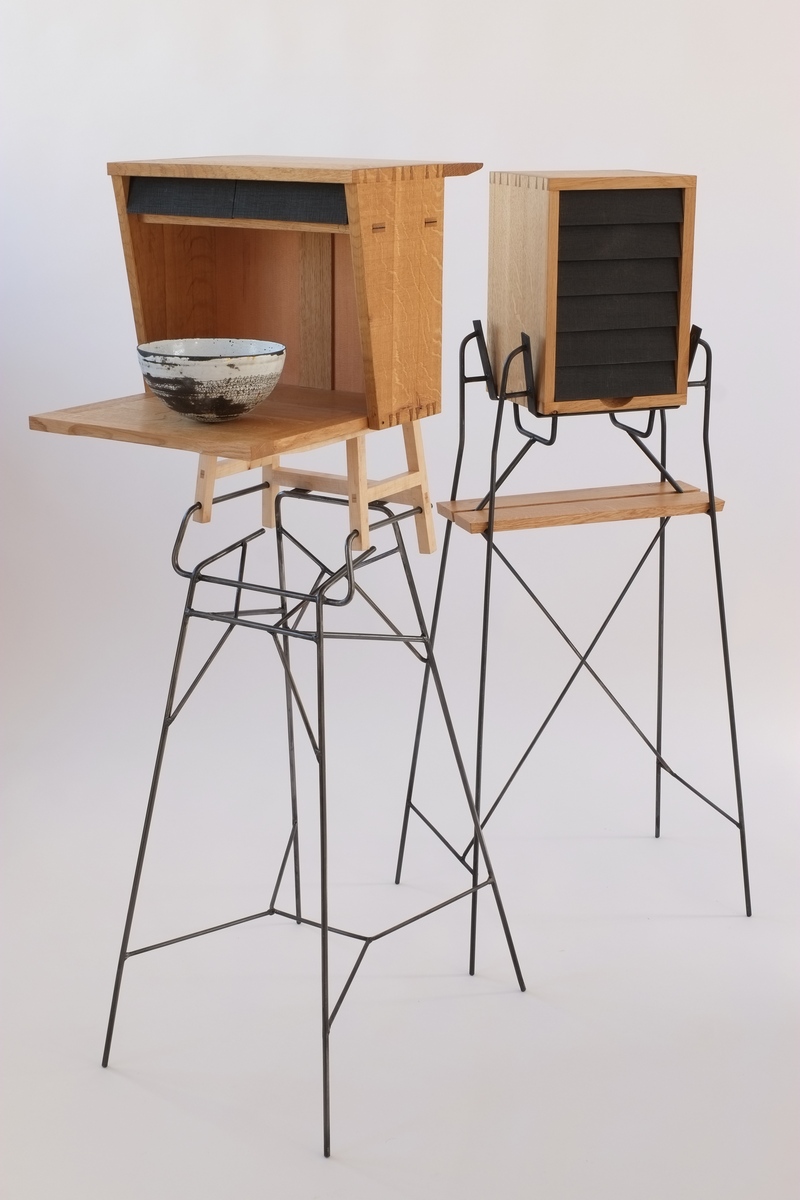 At Cliffe I & II, 2018
At Cliffe I, 2018
Floor standing cabinet in oak, bog oak, maple, and steel
115 x 49 x 31 cm
At Cliffe II, 2018
Steel, Quarter Sawn European Oak, Bog oak, Maple, Cedar of Lebanon
Littoral Chances II, 2017
Quarter sawn european oak, vitreous enamel on Steel, bog oak, ripple sycamore, birds-eye maple, cedar and steel
110 x 74 x 37 cm
43 1/4 x 29 1/8 x 14 5/8 in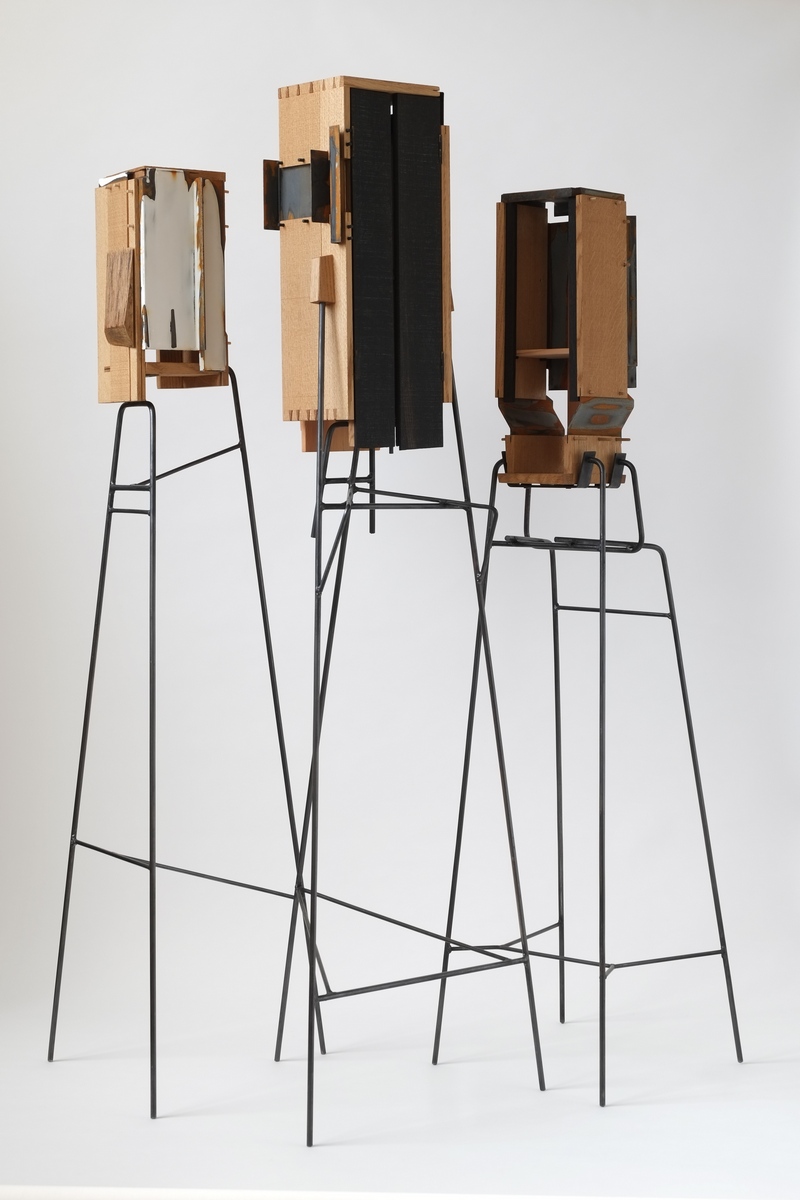 In a Landscape II, 2017
Vitreous enamel on mild steel, mild steel, European oak, bog oak.
Three parts: 125 x 34 x 35cm; 127 x 37 x 33cm; 142