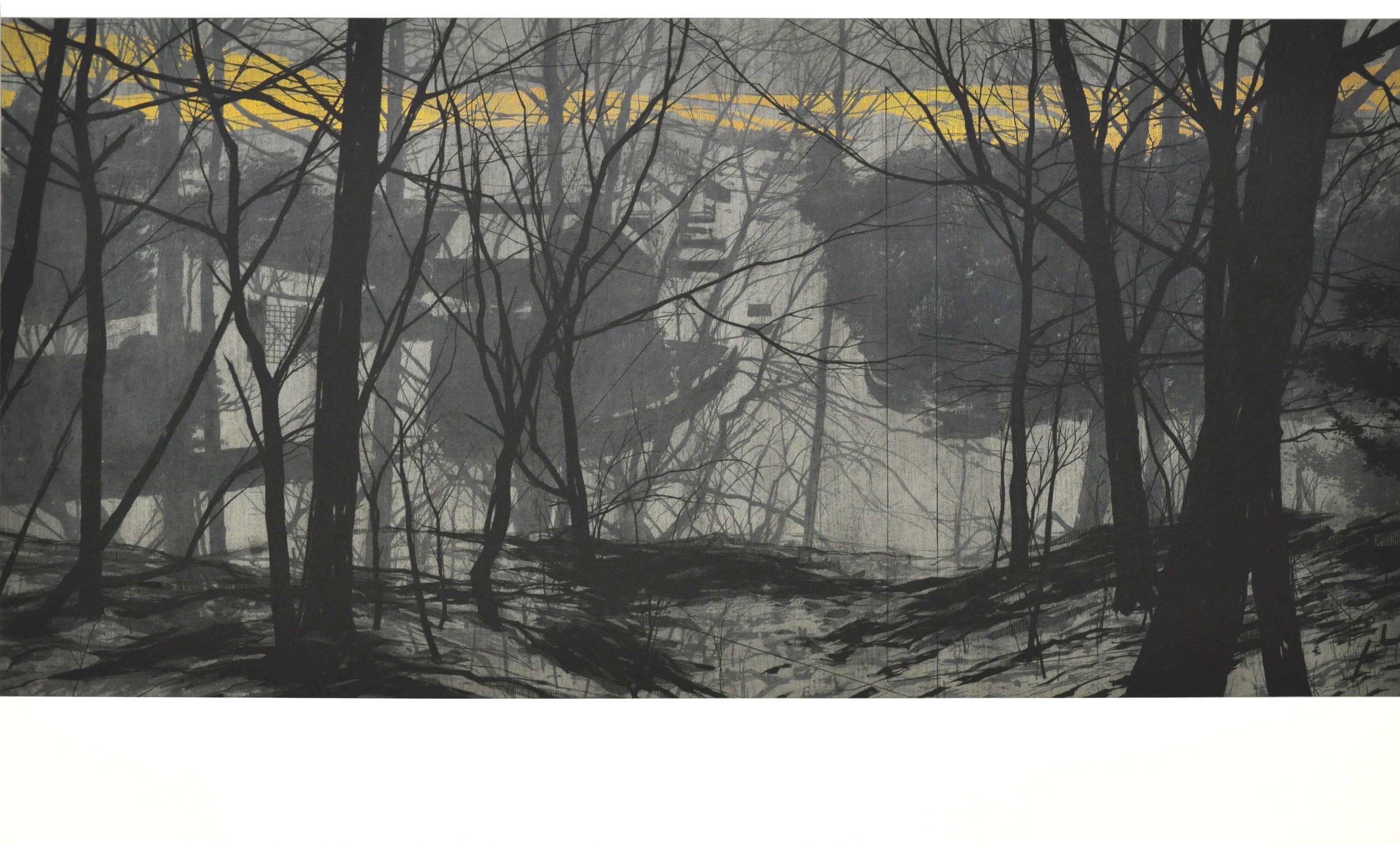 Andrew Mackenzie's paintings investigate the abiding presence of romantic and sublime imagery in landscape. His work appears to include some of the ingredients of conventional landscape painting – trees, cliffs, waterfalls – however, through his inventive composition, use of colour, and a semi-abstracted, layered working process, they contain contemporary interventions which undermine much of the genre's tradition.
While Mackenzie's paintings affirm the breathtaking and terrifying beauty of his native Scottish landscape, the artist also draws attention to the surrounding cultural constructs – the car parks, road access, paths, safety fencing, viewing platforms, and reservoirs. He does this through the inclusion of sharply contrasting hovering schematic line drawings of man-made elements encountered at each place. They appear in the work like abstracted, layered transparent diagrams of modernist structures, shifted slightly, then re-drawn over again. These skeletal drawings also work to create diced areas of perspective where 'space snaps shut to plane, plane flickers back open into space.' (Robert Macfarlane, catalogue essay for Silver Between the Falls.)
Mackenzie graduated with an MFA from Edinburgh College of Art in 1993. In 2012 the artist was chosen to exhibit alongside David Shrigley, Charles Avery, Callum Innes and Graeme Todd in Parliament of Lines, a drawing show at City Art Centre, Edinburgh, while his work was showcased in a solo exhibitions at Sarah Myerscough Gallery, followed by exhibitions at RMIT Gallery, Melbourne, Australia, and An Talla Solais, Ulapool in 2013. Previous achievements include a commission to make three major paintings for the Crown House Project in Holborn, London in 2011, and in November 2010, he was part of a select group of established artists chosen to exhibit in The Secret Confession, which celebrated 250 years of Edinburgh College of Art. In 2009, he was awarded a significant Scottish Arts Council grant towards research and development. Other exhibitions include Ten Decades held at the City Art Centre in Edinburgh 2008 and the critically acclaimed Delicate Ground, a solo show forming part of the 2006 Edinburgh International Festival. Mackenzie's work is part of an impressive list of public and corporate collections, including The Fleming Collection; Royal Academy, London; City Art Centre, Edinburgh; Halifax; Bank of Scotland; The Bank of America; and Mayer Brown Global Law Firm. Mackenzie had solo exhibition at Sarah Myerscough Gallery in 2014.
news